We feel it's time to have a serious word with all those other "budget friendly" flag poles that are out there these days.
When did planting your patriotic flag become a costly endeavor that only the wealthiest among us can afford? Sure, there are plenty of budget basement flag poles on the market, but their lack of features and durability leave a lot to be desired.
Besides, if those "affordable" flag poles only last a couple of years before giving up the good fight and forcing you to replace them, were they ever that friendly to your wallet in the first place? 
We believe that having a tricked-out, premium-quality flag pole that goes the distance while being affordable for all Americans should be a reality, and the Giant Telescoping Flag Pole Kit has come to stand up for this oath.
If you've been around the block searching for the perfect flag pole for your home, business, church or school, and you've experienced a few false starts; your search stops here. 
 The STAND Giant Telescoping Flag Pole Kit will ensure your stars and stripes don't skip a beat, as it stands for the truth that displaying proud patriotism can indeed be accessible for all. So, put it to the test and see if those other imposters can boast all the features this high-achieving flag pole can...
Here's 10 ways the STAND Flag Poles Giant Telescoping Flagpole Kit towers above its competitors:
10.  Flies 2 Flags at Once
Most flag poles only give you the option to fly the stars and stripes, solo. But nothing could celebrate the American spirit more than championing those other causes close to our hearts.
The Giant Telescoping Flag Pole lets you do just this, so you can rep two powerful messages at once.
One flag for our country; then another one that salutes our military, thanks our first responders, honors our beliefs and celebrates our freedoms.
Its first & second sections can hold up two 3' x 5' flags, so you can hoist all your dedications high and proud.
Awkward flag tangles are hereby a thing of the past with The Giant Telescoping Kit. This flag pole's halyard ups the ante when it comes to letting Old Glory flutter majestically, thanks to the Halyard Pulley System that prevents tangles.
Your flag will flourish freely when it's hoisted, independently swiveling as it lets the stars and stripes unfurl proudly with just the slightest breath of wind. 
8. Easy Set Up in Minutes
Telescoping sections mean quick, easy setup. Simply unpack the pre-assembled pole, clip on your flag, slot the base into the ground sleeve, then expand the telescoping sections. Rotating the cuffs as you go, each section locks securely in place.
Because weekends are precious, these streamlined flag poles have been engineered to set up in record time. You'll have more time standing back admiring your flagpole-installing handiwork, and less time messing about with fiddly parts and complicated instruction manuals.
Check out this video showing you the new & improved 20 Ft Flagpole:
Get your pride of our great country up there, magnificently, for all to see. The whole neighborhood will know "A Patriot Lives Here" when they see your flag from afar, thanks to its lofty capabilities.
We like to hoist ours high and mighty, and the Giant Telescoping Flag Pole towers above its competitors.
Old Glory rises to a statuesque 20 feet tall, standing sentinel at a height deserving of its majesty.
The interlocking telescoping sections are super strong, allowing you to achieve a flag that flies the highest, for all to see.
You'll be providing a constant reminder for the masses to honor our patriotism, every moment of every day. 
6. Premium Materials for Ultimate Integrity
Installing a new flag pole at your place should be a job you only need to do once. Do things right the first time when you install this long-lasting flag pole, its incredibly durable construction will guarantee it'll be standing strong for years to come.
Comprised of super-tough 16 Gauge Rustproof Aluminum, this pole packs a strong yet lightweight punch. This formula creates the perfect combination of easy installation and staying power.
The sleek brushed silver finish maintains its integrity and good looks, repelling rust, scratches and anything the elements can throw at it.
5. Included Bonuses Worth Bragging About
Truly a one-and-done package, this set arrives fully kitted out with everything you need to make your flag flying mission complete. You won't need to shop around for parts, accessories, or added extras, as they're all included already, free of charge.  
In addition to your pole and parts, it comes with:
Free Premium Embroidered 3'x5' American Flag
Free decorative Gold Ball Finial & Clips
Free Ground Sleeve for solid installation
Fast Shipping - arrives within 2-5 business days
4. Sturdy Stability Comes Standard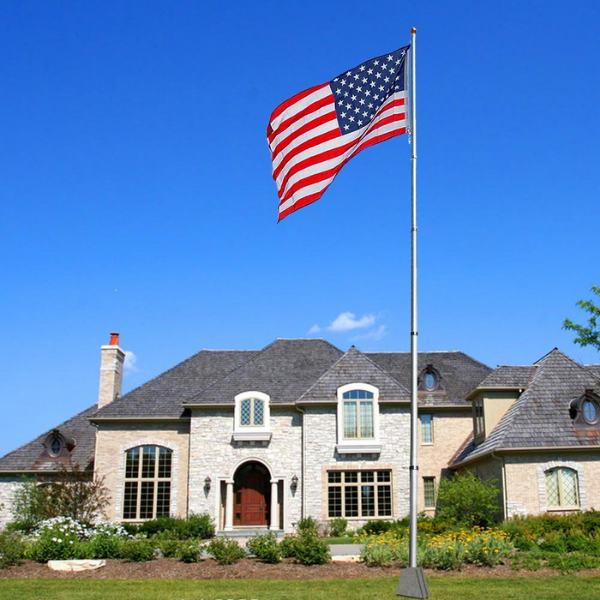 A sturdy flag pole starts from the ground up, and the Giant Telescoping Flag Pole has your bases covered. Every kit comes with a pre-cut and perfectly measured Ground Sleeve, so all you need to do to ensure a firmly planted flag pole is dig a small hole and pop this form-fitting sleeve in the dirt.
This foundation sleeve sits below ground level for a seamless look whilst suring up the stability. It gives fortified strength to the base and makes sure your flag pole is standing steady for years to come. 
3. Incredible Value & Very Affordable
All things considered, this impressive list of premium features should come at a higher price tag. Just compare it to its competitors, and you'll see what we mean.
The folks at STAND Flag Poles firmly believe that flying our national pride demands the highest quality, most dignified flag pole possible; and as such they're on a mission to bring patriotic pride into the homes of every American, with a price tag to match any budget.
While they are affordable, they're primarily incredible value for money. Because with these flag pole kits, the emphasis is on quality without cutting corners. We think you'll agree that our Stars and Stripes deserve nothing short of spectacular.
2. Homegrown American Company for Fast, Free Shipping
The STAND Flag Poles HQ is based right here on home soil, in American Fork, Utah. Plus, we put a rush on patriotism, so we always dispatch orders the same day or next business day.
Depending on what part of the country you call home, you can expect your flag pole kit to arrive within 2-5 business days, so you can start showing your patriotism stat!
The ultimate assurance that the STAND Giant Telescoping Flag Pole Kit towers above its lesser counterparts?
A zero-risk, 30 Day Guarantee. 
We stand behind our product and back our orders with a 30 Day Replacement Guarantee. If it is damaged in transit, send it back and we will provide you with a new one. No hassles. No questions. 
An easy-to-install, high-quality flag pole that comes at an affordable price point for every American home? That sure sounds like a cause we can all STAND behind....
Give our national banner the honor it commands and bring home your patriotism today with the Giant Telescoping Flag Pole from STAND Flag Poles. It'll be up so quick, you'll wonder why you didn't try it sooner! 
Thank you for reading, United We Stand.
Fefe
STAND Patriot
 Nevada, USA
Giant Telescoping Flag Pole Kit
This is the Best Flag Pole out there because...
 Can Fly 2 flags at the same time - First & second section can hold up to 3' x 5' flag
 Tangle Proof - Circular Clips System to prevent Flag tangles and etc...